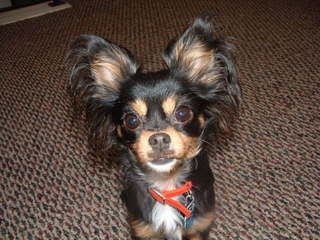 Wagging on Wednesday (can you believe it's Wednesday already?) is brought to you this week by Brooke from
Brooke Reviews
. She wrote: This is Riley. She's a 4 year old long-haired Chihuahua. She's really cute, but it's all a front! [I interrupt to say she is not just cute, Brooke. She is absolutely ridiculously adorable.] She's a little monster pooch! She loves to nap, run around the front yard, chase her son Elliott, and eat human food. She's definitely a daddy's girl, but she knows who feeds her, so she treats me with respect...sometimes.
Where did Riley's name come from?
We adopted Riley from a family who had too many dogs. They had named her "Black Rose" which was just awful lol. We went through many names before deciding on Riley. It's from the character Riley Finn on Buffy the Vampire Slayer.
What are some of her quirks?
After she goes potty, she wants her treat so BAD that she runs to the front door and scratches at it until I get there. She also hates to be woken up in the morning, she growls at you until her feet hit the grass.
Any particular bold moments?
One morning at 2am I took her out to potty. We're usually up late reading together. When I opened the front door she took off chasing an opossum down the street. I had to run after her until the opossum finally got away.
What book/s is Riley most looking forward to in 2009?
She's definitely looking forward to
Bad to the Bone
by Jeri Smith Ready!
What do you think Riley could teach alien species if she were abducted by aliens?
How to scavenge for food, she can find food ANYWHERE. Thanks a million for bringing Riley around to chat, Brooke!
Anybody else looking forward to some good books?
(I know I ask this every single week, but no one ever answers. I'll keep asking, too. I'm a reckless optimist, man.) I'm looking forward to finally picking up a copy of FADE this week, and can't wait to get back into researching the next book. Here are some cool links from the week for your procrastinating pleasure: A great interview at
SORMAG
reveals my mysterious pet fact. And I found this awesome, really in-depth and well thought-out review today by genrereviews at
OCD, vampires, and rants, oh my!
"A wonderful tale of adventure on the high seas and teenage impatience; young love and loss and sheer determination."
Did you see the D100D Discussion Guide yet?
25 groovy questions to help your class, book group or friends talk about the book.
Oooo! And hey ! There's a contest to win a copy of
The Dust of 100 Dogs
over at
Wolfy Chicks
, where I'll be interviewed next week.